Built in 1844, Susannah Place Museum is a terrace of four houses that incorporates a re-created 1915 corner store. The museum provides a rare opportunity to explore domestic working class life from 1844 to 1990.

The houses survived largely unchanged through the slum clearances of the early 1900s and the 1970s redevelopment. For nearly 150 years they were home to over a hundred different families. Today the houses speak of these people and their lives, the evidence is still there. The surviving layers of paint finishes, wallpapers and floor coverings provide a valuable insight into the tastes of the working class. The modest interiors and rear yards illustrate the restrictions of 19th century inner city life.
Sunday 9th December it was off to
Susannah Place Museum.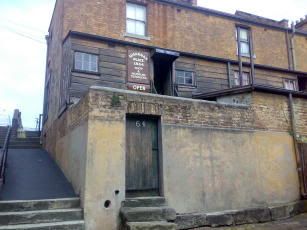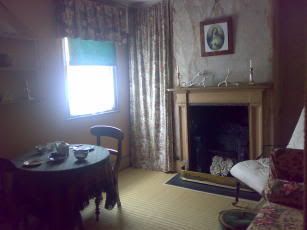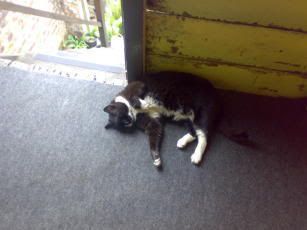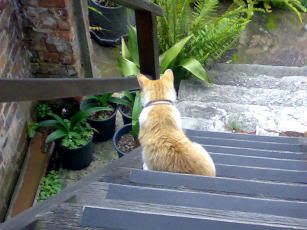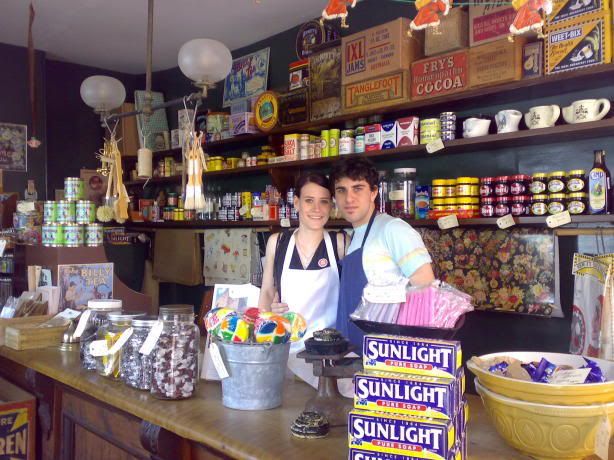 After spending a while here we went to Government which you are not allowed to take photos of. Then it was off to Pancakes for lunch - nachos and chips, yum.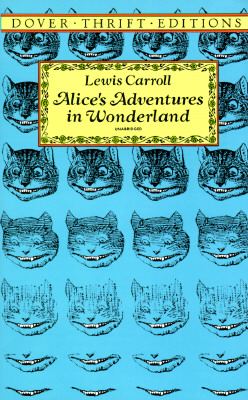 You're Alice's Adventures in Wonderland!

by Lewis Carroll

After stumbling down the wrong turn in life, you've had your mind
opened to a number of strange and curious things. As life grows curiouser and curiouser,
you have to ask yourself what's real and what's the picture of illusion. Little is coming
to your aid in discerning fantasy from fact, but the line between them is so blurry that
it's starting not to matter. Be careful around rabbit holes and those who smile to much,
and just avoid hat shops altogether.


Take the Book Quiz
at the Blue Pyramid.
Australian Museum
. It has changed so much since i had been there last, its so much better now.
Afterwards it was a quick trip in to St Marys Cathedral, which is the biggest rort going. Donation boxes everywhere, bloody Catholics.
After that it was
Hyde Park Barracks
The Hyde Park Barracks were built between 1817 and 1819 and is a popular landmark in the historic precinct of Macquarie Street and Queens Square in Sydney.

It was constructed by convict labour and the Barracks is one of the finest works of the accomplished colonial architect Francis Greenway. As the principal male convict barracks in New South Wales it provided lodgings for convicts working in government employment around Sydney until its closure in 1848.

It has had many occupants since then. It was an Immigration Depot for single female immigrants seeking work as domestic servants and awaiting family reunion from 1848 to 1886 and also a female asylum from 1862 to 1886. From 1887 to 1979 law courts and government offices were based at the Barracks.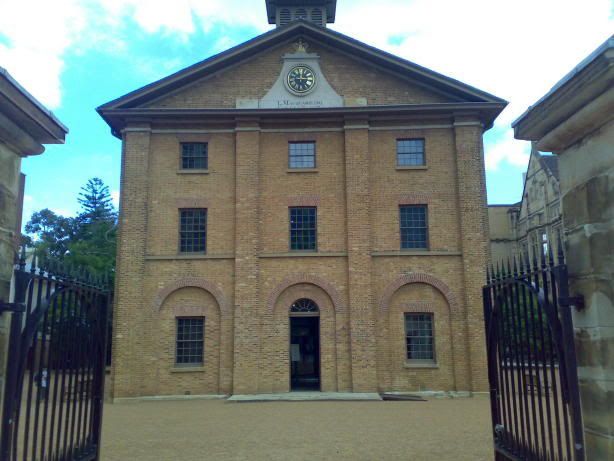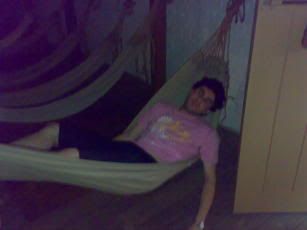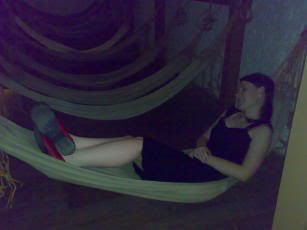 After the Barracks we dropped into
The Mint
, which is quite crap really. There's nothing there, just a building.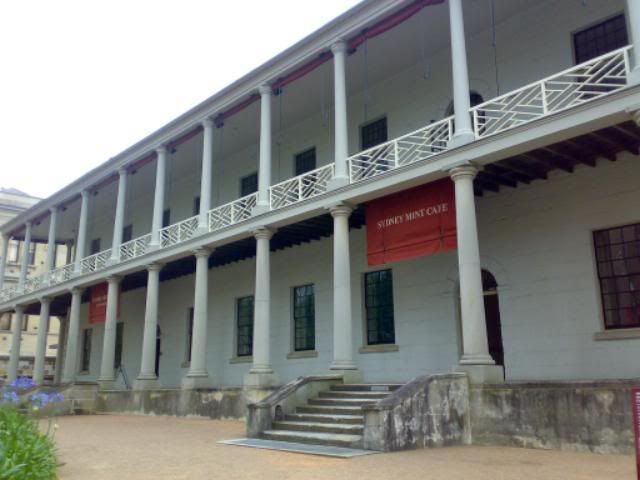 Then we went to Circular Quay, had lunch at Pancakes and walked over to Darling Harbour to the
Maritime Museum
where we went on the James Craig.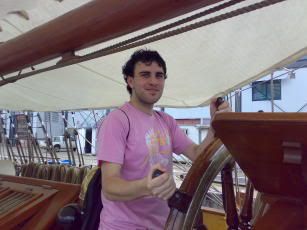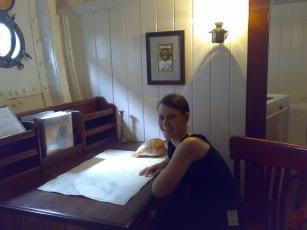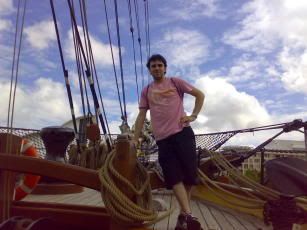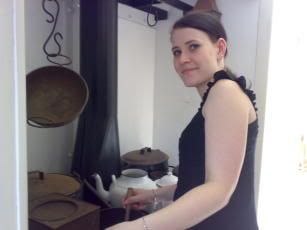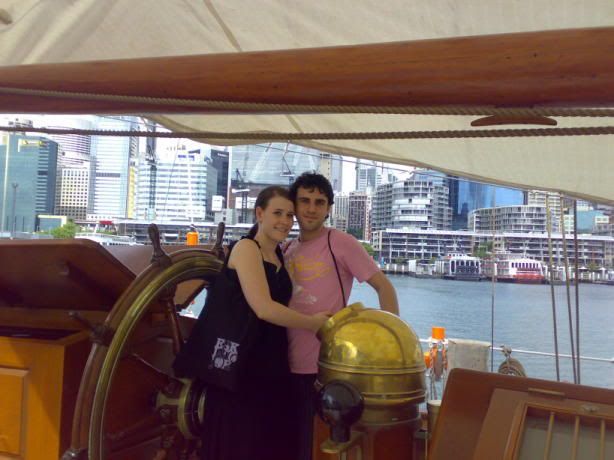 Early morning Monday 26th November and we were on the train once again. First stop was the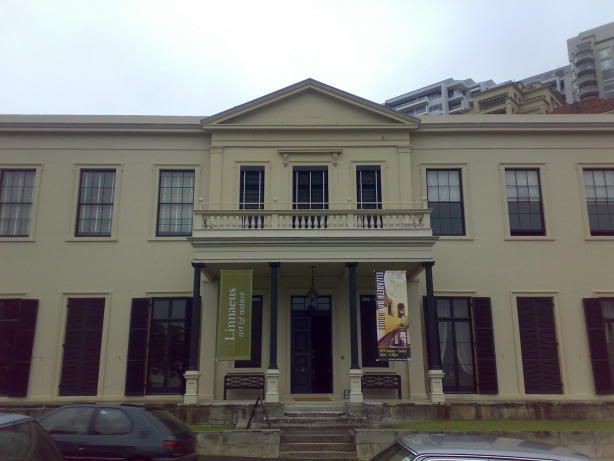 Elizabeth Bay House was built between 1835 and 1839 and was known as 'the finest house in the colony'. It was designed by the most fashionable and accomplished architect of the day, John Verge, for the Colonial Secretary, Alexander Macleay and his family. This house is a superb example of colonial architecture.

Elizabeth Bay House is elegantly furnished to the period of 1839–1845, the interiors reflect the lifestyle of the Macleays and present an evocative picture of 19th century life. The house was once surrounded by an extensive 54 acre garden and described as a 'botanist's paradise'. Alexander Macleay was a renowned gentleman scientist who established a significant library and entomology collection and had extensive interests in botany.
So the first of me and Jonathan's adventures this holidays was to Elizabeth Bay House. We caught the train bright and early Thursday morning 22nd November and arrived at the house around 10am. We didn't think we would spend too long there, but ended up staying a lot longer that we thought we would. We talked a bit to the lady at the desk then wandered around and took heaps of photos. Its such a nice house. I want to live there. I think the Breakfast Room was my favourite.
Breakfast Room: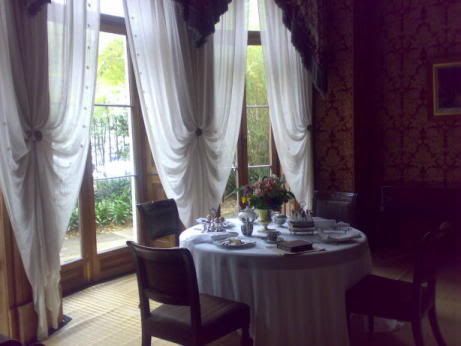 Dining Room:
Drawing Room:
Main Bedroom:
Morning Room:
After looking through the house we walked down to look at the grotto, which we have no pictures of cause Jonathan's phone died. We also went to the Jewish Museum since it was near by, then walked to Town Hall and had lunch there. We had crepes and a pretzel - yummy! After lunch we walked to Haymarket, didn't stay there for long and decided to walk to Broadway. Then it was a quick look in Basement Books then we caught the train home.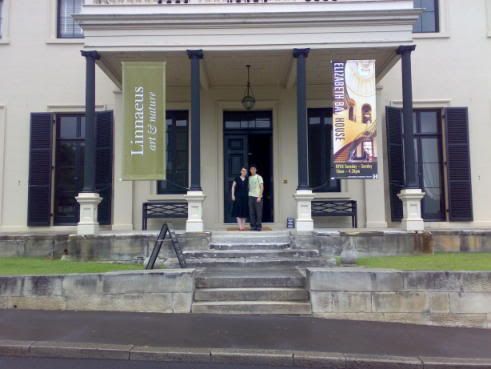 Maloo: What makes me a loser, apart from being your daughter?
Mum: You're a loser.


In other news i am finally leaving bloody Coles... well not completely but i am going to another store. Hopefully it will be better. I think it should be.
Ok, well it has been way too long since i've updated. I can't remember much of what i've done, if i've done anything at all. Linkin Park was a couple of weeks ago. I really didn't feel like going and i was so tired when we got there. So i slept during the support act. Yep, i know what you're thinking. How can anyone possibly sleep during a concert. Well i did. When the band finally started it was alright and went pretty quick. So it ended up being a good night. I don't think i've really done anything else lately. But i'm feeling the need to get out of the house. Everyone is too busy and Maloo is immobile. And i'm bored of doing things by myself. I can't wait till uni next year cause even though i will probably complain about it at least i will be getting out. But that's four months away so i will stay here and slowly go mad in the process. But i'm not going Emo.
Current Mood:

grumpy


Saturday was the long awaited big day for me and Maloo. We got up super early in the morning and drove to the airport then we were on the 7:45am flight to Melbourne. Previously i was scared about flying but Saturday morning i was absolutley fine and wasn't really nervous at all. Turns out planes are really fun. Turbulence pfft, its not that scary. The plane landed at Avalon then we took the beloved Sunbus to Melbourne which took about an hour. We had lunch at the Hard Rock Cafe, then we were off to the Princess Theatre to watch the show - The Phantom of the Opera. The show was really good and our seats were good too. After that we went in search of... something... some people will find out soon enough. Then it was back on the Sunbus and on the plane home.

Haven't done much else. We saw Josh Groban the week before which was really good. And i can't be bothered to write more.
I'm at that stage again where i really couldn't be bothered with this anymore. Neopets and Facebook are too addictive and much more fun than poor old livejournal. The ever increasing simming bug doesn't help either. I will try to update every now and then though.
http://www.careercruising.com/
.
2. Put in Username: nycareers, Password: landmark.
3. Take their "Career Matchmaker" questions.
4. Post the top ten results
1. Archivist
2. Archaeologist
3. Artist
4. Pet Groomer
5. Historian
6. Tailor / Dressmaker
7. Writer
8. Chef
9. Cook
10. Researcher
That's better! Lol. I tried it again and did more questions this time.
1. Go to
Monday:
Went to uni yesterday with Jonathan to take him on the heritage/museum tour that they do as part of Verge. Got there really early so we went to the Bookfair in the Great Hall. Big mistake, we then had to carry around the books all day and they were damn heavy. Got my forms for next year as well - woo! At 12 we went to the meeting place and we were the only ones there, but we still went on the tour. She seemed happy that someone wanted to do the tour, the previous one no one had shown up for. Its pretty bad... what has society come to when no one wants to go on a heritage tour?
Sunday:
Quadworts!
It was heaps better this year, less people there in general but more in our group - Me, Maloo, Jacq, Zoe and her sis, and Nadia and her friend. We all brought food with us and had a picnic and were all wearing scarves, capes or hats. It was really fun, though the movie got a bit boring sometimes, it was fun to lay on the grass in the quad falling asleep. The drive home was... interesting. Damn spider on the car. It was so scary. Jacy tried to get it with the fly swat (which by the way was given to me with excellent timing by Robyn on Saturday night) but she couldnt see it when we dropped her off. So we drive off and we're happily driving along when the bastard thing shows itelf again. We stopped at the servo, tried to swat it off again, was paranoid it crawled into the car, used half a can of insect spray spraying the whole car, and finally after about maybe 15/20 minutes felt brave enough to get back in the car and drive home.
Me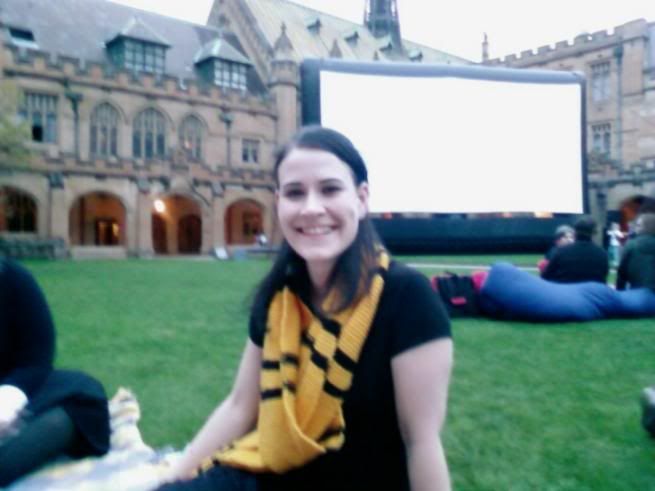 Me and Maloo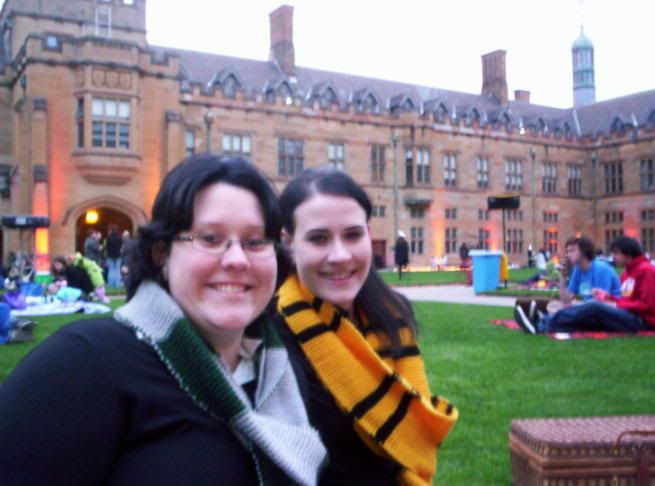 Me and Jacq

I also went to the movies in the morning cause Jonathan's sister had free tickets to an advance screening of a movie called 'Underdog'. I, naturally like all movies, had never heard of it but went anyway not really knowing what to expect. Well... yea, that's about all i can say about it. It was early in the morning... the movie wasn't the most interesting... sleep was looking like a pretty good option...
Friday:
Took the night off work - yay! - and went to the Twilight Markets with the Maloo Burger. They weren't that great, kinda disappointinng. So we walked over to Newtown and had some Thai food and gelato. Came back to uni and had another look after before we left. I ended up buying a bag with a sheep on it, matching bracelets for me and Medea, and a top that was $1.
Thursday:
Went to Epping with Jonathan to go to a book shop. Then came home and supervised him while he did his uni work, lol.
Ok... i might stop going by days now, its getting too vague. My memory is so crap... damn old age. However, i do remember Wednesday. It was a very special day for Me, Jonathan and Medea as we welcomed little Ezekiel

He was born 12th August 2007 at Parrmatta to Rebecca and Jonathan.
Can't remember too much further back. In between all this i was knitting like a mad woman so i could finish Jacq's scarf in time and also sew my cape, which somehow managed to not appear in any of the pictures. I was also trying to resist temptation and not play the sims on account of all the knitting i had to do. That's right people, the new expansion is out. I've been so caught up with other crap lately that i didnt even realise it was out until a few days later. I played it a little bit though, sent the Antony's on a Far East holdiay and some Mythos/Caesars to the mountains. It's so cool, i sense addiction coming back...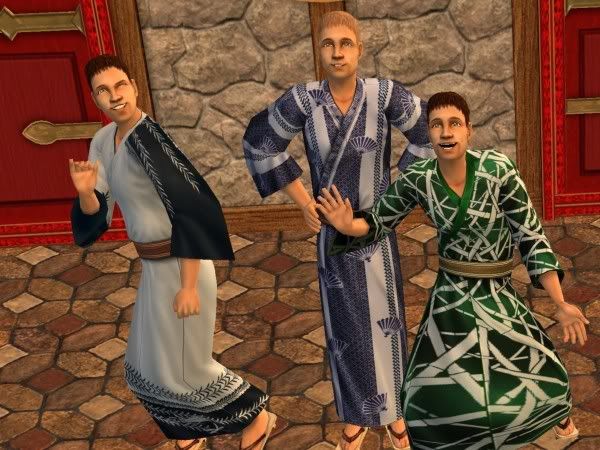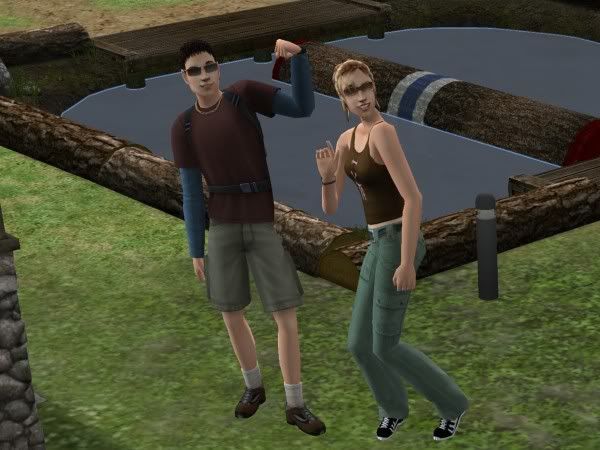 Not last Saturday but the one before was my much loved night off work. A friend of Tristans was having a party and Emily invited us. It was at Penrose, so we drove down stayed for a few hours and drove back. It was a bonfire party, though the bonfire was dodgy and wouldn't started. They apparently finally got it going some time after we had left. It was great to see Emily again, i haven't seen her for ages.
Stolen from Kristy...
1. Go to
http://www.careercruising.com/
.
2. Put in Username: nycareers, Password: landmark.
3. Take their "Career Matchmaker" questions.
4. Post the top ten results
1. Archivist
2. Sign Maker
3. Cook
4. Cartoonist / Comic Illustrator
5. Autobody Repairer
6. Pet Groomer
7. Butcher
8. Desktop Publisher
9. Fashion Designer
10. Writer
Look at number one - what a suprise. Lol. But a butcher? Autobody repairer? Yea right...
I've been quite busy lately but have been neglecting this something shocking. I'll try to recap my last week or so.
Current Mood:

sleepy
Tuesday night me and Jacq went to a lecture at my dear old Uni. It was called
"The Moon is stained with Blood: the Imperial Use and Abuse of Astrology"
. It was pretty good, he mostly just went through all the emperors and how they each used astrology. Good for the historian, but a bit lacking for the archaeologist.
Worked really bizarre hours yesterday, 1-10, 9 hours. Suprisingly it wasn't too bad and it didn't drag on too much. I don't know what's going on in that place, it's weird. It's been taken over by toilet paper.
I don't like the rain...
Hello journal I feel the need to update, though it will only be short. Not much has been happening... like usual... Went to the movies on Sunday. I took Dad to see Die Hard 4.0 for Father's Day. The movie was pretty good, a little bit longer than it needed to be though. Went to the movies last Thursday night as well cause Maloo took Dad to see the Bourne Ultimatum and they asked me to come along too. Now that movie was weird but i think it had a lot to do with the fact i haven't seen the first two. Almost fell asleep and did not know what was going on most of the time.
Current Mood:

gloomy